Sensory Garden Playground Update
The need for childhood play is well documented. Play stimulates the imagination; helps grow fine and gross motor skills; encourages speech and language development; and develops social skills.
Playgrounds and play are a vital part of childhood development. Sadly children with physical disabilities and those on the autism spectrum are often denied access to the benefits of outdoor play. The Play for All Playground & Garden Foundation is committed to ensuring that play is accessible to all DuPage County children, regardless of ability.
The foundation board has been hard at work over the winter months planning and raising funds for the park's future phases. Last October, the Sensory Garden Playground hosted a group of more than 30 members from the Lisle and Wheaton chambers of commerce for an after-hours mixer highlighting the playground's accomplishments and unveiled plan details for the upcoming accessible tree house project.
Guests were treated to a virtual reality tour of the tree house courtesy of the planners at Hitchcock Design Group and heard from parents whose families have benefited from the inclusive play space.
The tree house design announced at the fall mixer includes ADA-compliant boardwalks that will allow visitors to travel up 11 feet into the tree line and will surround a central two-floor play space that can be accessed by visitors in wheelchairs. Other future project highlights will include a gravity rail, slides, spinners and netting all designed to encourage accessible and integrated play.
The first phase, which includes a 2-5-year-old playground, sound and fragrance gardens, central gathering area and interactive musical sculptures, will remain open during the installation of the tree house.
As part of its fundraising and outreach efforts, the Play for All Playground & Garden Foundation partnered with the Fun Run in Color that took place on April 14 in downtown Wheaton. The family friendly walk/run features four color stations and a post-race color toss with a portion of the proceeds benefiting the Sensory Garden Playground.
This spring and summer the foundation looks forward to another season of Play Days with partners the Western DuPage Special Recreation Association and the Wheaton Park District. The Play Days will kick off on May 19 at 10A with the tree house ground breaking ceremony. See the following pages for a complete Play Day schedule and details.
The park is free and open year round from dawn to dusk.
For more information or to make a tax-deductible donation visit playforalldupage.org.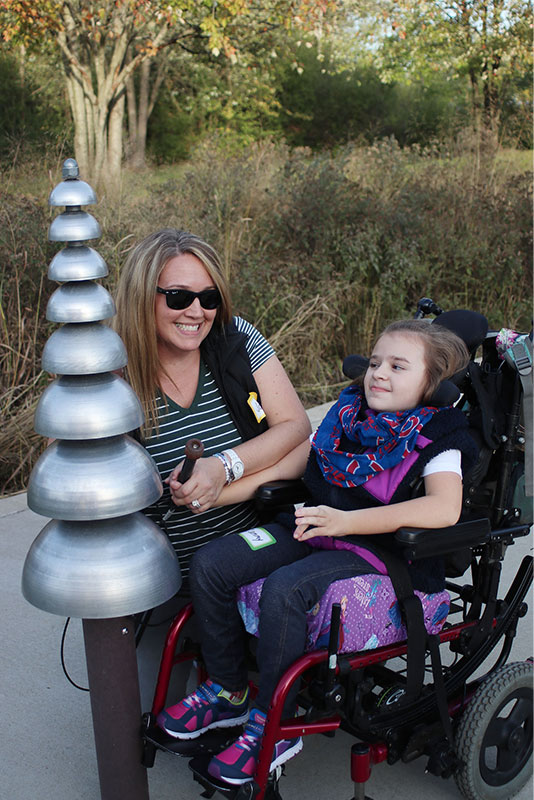 Tree House Update
We are excited to announce that the first phase has been fully funded!
A groundbreaking ceremony is planned for May 19 at 10A.
The foundation has contracted the planning firm, Hitchcock Design Group, to develop the tree house plans.
The first phase of the project will include:
ADA-compliant boardwalks
Accessible two-story central play space
Entry arbor
Future tree house elements to include:
Gravity rail
Large deck spinner
Roller slide
Log wall
Net tunnels
Thank you to First Trust Portfolios for their generous $50,000 donation which has officially fully funded Phase 1 of the tree house project and allowed us to break ground and begin seeking funds for our second phase. Their donation was generously matched by the Wesley Luehring Foundation.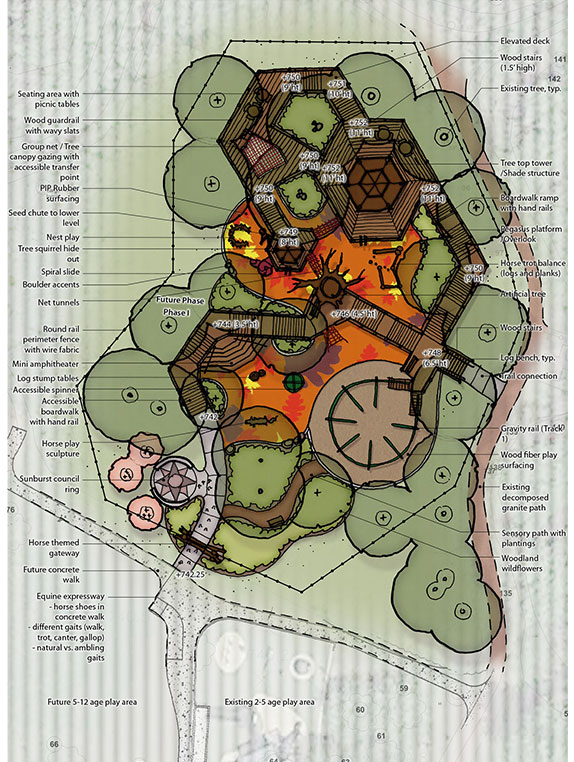 The Play for All Playground & Garden Foundation and Aspen Lane Wine have teamed up to help build an accessible tree house at the Sensory Garden Playground – and we need you!
We are looking for party hosts for wine parties at Aspen Lane's Aurora location. Hosting a party is fun and easy, and all proceeds benefit the playground's tree house project.
As a host you:
Pick a date
Share the electronic invitation created by Aspen Lane with your friends
Sit back, relax and let Aspen do the rest!
Interested in scheduling a party or want more information? Email [email protected]
Thank You
Thank you to all of the individuals who supported the Play for All Playground & Garden Foundation this past winter. Thank you for giving the gift of play!
$50,000+ Supporters
Wesley Luehring Foundation | First Trust Portfolios
$10,000+ Supporters
Science of Spirituality | Rotary Club of Wheaton AM
$5,000+ Supporters
FT Cares Light the Torch Night Run 5K/First Trust
$2,500+ Supporters
Anonymous | Lisle Lions Club
Straight from the Tap silent auction proceeds from
Arrowhead Golf Club
$1,000+ Supporters
Aspen Lane Wine Company | McCann Foundation
Secure online donations can be made at playforalldupage.org or mailed to Play for All Playground & Garden Foundation, 855 W Prairie Ave, Wheaton, IL 60187.
The Play for All Playground & Garden Foundation is a 501(c)(3) non-profit and donations are tax-deductible to the extent allowable by law.
Planning Meeting | Left to right: Andy Howard/Hitchcock Design Group, Eric Hornig/Hitchcock Design Group, Board & Committee: Will Grosch, Rob Sperl, Donna Siciliano, Kim Ulfig and Jane Hodgkinson
2018 Play Days!
Play Days are free to the public and include special activities, provide a few hours for families to explore the playground, get their faces painted, dig in the Fragrance Garden, blow bubbles, draw with chalk and socialize.
Play Days run 10A-12P the third Saturday of the month, weather permitting, and are geared toward children ages 2 to 5.
May 19 | Tree House Groundbreaking Ceremony
June 16 | DuPage Medical Group Teddy Bear Clinic
July 21 | Lincoln Marsh Nature Story Telling
August 18 | Learn About Animals with Cosley Zoo
Stop by this summer and see the impact of your support in the smile on a child's face as they ascend the ramp to the playground. Watch them absorb the awesomeness of the Sensory Arch. Hear them laugh on the seesaw or test the different sounds of the Musical Mare.
Thanks to your help, every experience at the Sensory Garden Playground is free.
The Play For All Playground & Garden Foundation is dedicated to creating barrier-free outdoor play and garden spaces in DuPage County. Through the cognitive, social and physical values of side-by-side play, the Foundation promotes a spirit of inclusion and enhances local quality of life, plus supports involvement in recreation for all people of all abilities. All donations to the Foundation are tax-deductible to the full extent of the law.
Tax ID: 46-3862874
Continue your support by donating today at playforalldupage.org and connect to find out how you can stay involved! Park address: 2751 Navistar Drive, Lisle, IL 60532 | Mailing address: 855 W. Prairie Avenue, Wheaton, IL 60187
Phone: 630.510.4984 | Email: [email protected]
Board & Committee Members
President Michael Benard | Vice President Rob Sperl
Will Grosch | Margie Wilhelmi | Sandy Gbur | Jane Hodgkinson
Ray Morrill | Steve Hinchee | Mark Trieglaff | Donna Siciliano
Sandra Simpson | Kim Ulfig | Carey Moreland | Rick Napier